Post-mortem / Making of
(This is a mirror of this LD blog post.)
Well.
Skipped a weekend worth of revision for my exams the following morning, didn't really get to sleep for them either (cause European timezone) but ... I think it was worth it :) When I was coming up with the concept, I imagined the resulting game to be a little more ... dark, more atmospheric. In the end it is a bit different, but maybe that's for the better. Seems to be more fun, the different worlds are noticably different in their palettes, etc.
The good things
it is incomplete, but I think it feels quite polished
I certainly want to develop this into a full game (like most of my submissions ...)
I could implement the basic algorithms (pathfinding, particle systems, AI) without wasting too much time on them
was more productive than my previous LD's - clocked 28+ hours on my timelapse
found out switching tasks often instead of focusing on just one for a longer time (and getting stuck) seems to help me
The entity spritesheet (anything on the map)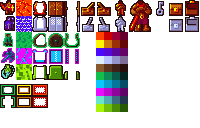 The bad things
STILL I was a bit too ambitious (like every single LD ever :) and wanted a bit too much - a levelling system, skilltrees for the different elements, five different combat systems ...
I did spend a lot of time on making some graphics that didn't even make it into the game
the last hour or two before submission hour were spent tracking down a stupid bug
I am not too good at UI design - kind of forgot about the players who don't actually know the system - so, no HP bars for the enemies, and the fight system is a litle obscure at first
The GUI spritesheet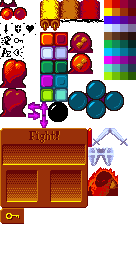 All in all, I am glad I participated in this LD, looking forward to playing + rating your games, as well as the next compos!